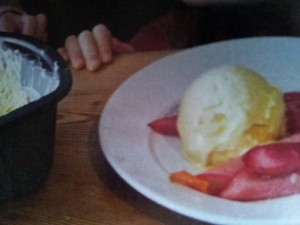 Honey Roasted Rhubarb
Author:
Christine (Waitrose Kitchen, Apr 2011, p48)
Ingredients
500g rhubarb, trimmed, washed and cut into 5cm pieces
1 orange
1 vanilla pod
6 tbsp clear honey
Instructions
Preheat the oven to 150C, gas mark 3
Put the Rhubarb in a roasting tin large enough to hold it in a single layer
Pare in the zest from the orange and squeeze in the juice
split the vanilla pod and scrape ou tthe seeds
using a fork, whisk the seeds into the orange juice.
Trickle over the honey and gently mix everything together.
Cover loosely with foil and bake for 40-45 mins, until the rhubarb is tender.
The pieces of rhubarb should keep their shape rather than cook to mush.
Serve the rhubarb warm along with all the sticky sweet juices, ice cream and a biscuit or two.
Nutrition Information
Calories:
55
Fat:
0.1g
Saturated fat:
0g
Carbohydrates:
13.6g
Sugar:
12.9g
Salt:
Trace
Fibre:
1.6g
Protein:
0.8g