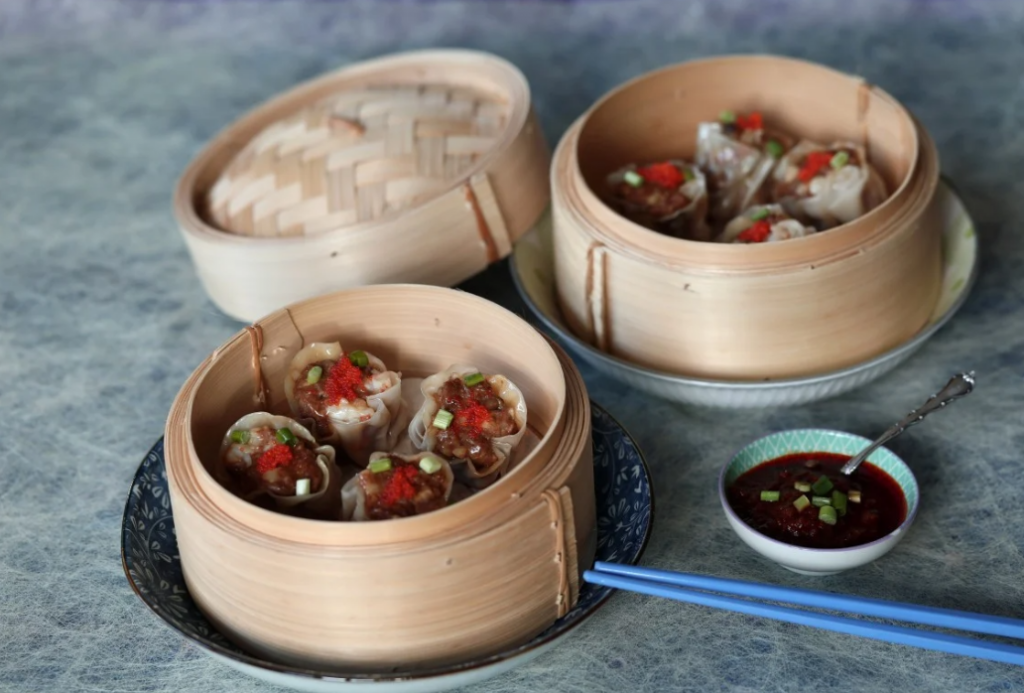 MAKES: 30 large/45 small
20 grams dried Chinese mushrooms (two to four, depending on size)
150 grams peeled fresh shrimp
350 grams slightly fatty minced pork
15ml light soy sauce
10ml rice wine
5ml sesame oil
¾ tsp fine sea salt
½ tsp granulated sugar
¼ tsp finely ground white pepper
¾ tsp cornstarch
Wheat wrappers, as necessary
Flying fish roe (optional)
Spring onions (optional)
To serve:
Light soy sauce
Sesame oil
Chilli oil or chilli sauce
1 Briefly rinse the dried mushrooms, then put them in a bowl and add cool water to cover. Let them soak for two to three hours or until completely hydrated.
2 When the mushrooms are soft, squeeze out the excess water then cut off and discard the stems. Very finely mince the mushroom caps and the shrimp and put them in a bowl.
3 Add the pork, soy sauce, rice wine, sesame oil, salt, sugar, pepper and cornstarch to the bowl and mix thoroughly.
4 Drizzle in 50ml of iced water and, with your hand, stir the mixture in one direction, until you see long white protein threads forming. This doesn't take long (about 15-30 seconds, depending on how vigorously you stir) and makes the filling more cohesive.
5 Check the seasonings by shaping a teaspoonful of the filling into a ball and pan-frying it in a skillet. Taste and correct the seasonings of the rest of the filling, if necessary.
6 If making smaller siu mai from larger wrappers, stack about 10 of them at a time, then use a sharp round metal cutter to cut them into 5cm-6cm circles.
7 Put the wrapper in the palm of your left hand (if you're right-handed) and spoon some filling into the centre. Bring up the sides of the wrapper to form an open-topped dumpling, with pleated sides. The filling should come all the way to the top of the wrapper.
Smooth the surface and press the sides of the wrapper so they adhere to the filling, then flatten the bottom of the dumpling by pressing it onto a work surface so it stands upright. Line a bamboo steamer with a circle of parchment paper and place the dumplings into it, leaving a little space between each one.
8 Pour water to a depth of about 3cm in a wok. Place a round rack with low feet in the wok, cover with the lid and boil the water over a high flame. Place the bamboo steamer onto the rack in the wok and place the lid on top. Steam over a high flame for eight to 10 minutes, or until the siu mai are cooked. Occasionally check the water in the bottom of the wok, and add more boiling water if necessary.
9 When the siu mai are cooked, put a dab of flying fish roe (if using) on each one, or scatter with minced spring onion.
10 Serve immediately, letting each guest make their own dipping sauce with soy sauce, sesame oil and chilli oil or chilli sauce.
https://www.scmp.com/magazines/post-magazine/food-drink/article/3086082/how-make-pork-and-shrimp-siu-mai-easy-dim-sum