Category: Brunch
Aug
31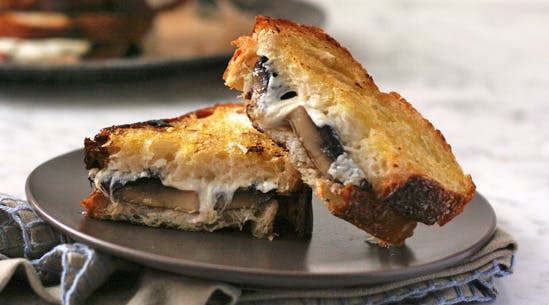 4 servings
8 portobello mushroom caps, halved
1 sweet onion, thickly sliced
¼ cup olive oil, divided
2 tablespoons balsamic vinegar
Salt and freshly ground black pepper
8 slices crusty Italian bread
4 tablespoons cream cheese
8 tablespoons ricotta cheese
8 ounces fresh mozzarella cheese, cut into 12 slices
1. Preheat the oven to 425°F.
2. In a large bowl, toss the mushroom caps and onion slices with 2 tablespoons of the olive oil and the balsamic vinegar. Season with salt and pepper, then transfer to a baking sheet. Roast in the oven until the mushrooms are tender and golden, 15 to 20 minutes.
3. While the mushrooms cook, prepare the remaining ingredients. Brush or drizzle the remaining olive oil onto one side of each slice of bread.
4. Turn all the slices over. Spread 1 tablespoon cream cheese onto 4 slices of bread, and spread 2 tablespoons ricotta onto the other 4 slices.
5. To assemble the sandwiches, layer the roasted mushrooms and onions on the ricotta-slathered slices of bread (use 4 mushroom halves and 4 onion rounds per sandwich). Place 3 slices of fresh mozzarella over the vegetables, then top with a slice of cream-cheese-slathered bread.
6. Place the sandwiches on a baking sheet, and bake until the cheese is melted and the bread is golden brown, 15 minutes. Remove from the oven, cut in half and serve warm.
https://www.purewow.com/entry_detail/recipe/12143/Mind-Melt.htm
0
comments