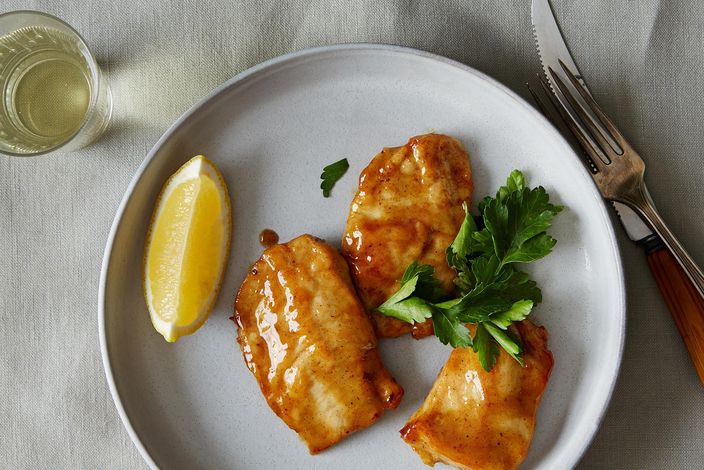 SERVES 2 to 3
Ingredients
2 

boneless, skinless chicken breast halves

3 tablespoons 

unsalted butter, divided

1 cup 

flour
sea salt
olive oil
juice of 1/4 to 1/2 lemon
1/4 to 1/2 cups low-sodium chicken broth
freshly cracked black pepper
flat-leaf parsley for garnish
lemon slices for garnish
Directions
Slice chicken breast thinly. I cut them in half first, separating the fat end from the skinny end. Slice the fat end into 3 or 4 thin slices and the skinny end in two, depending on the size of your breasts. Season lightly with salt.
In a medium non-stick frying pan, melt 1 tablespoon butter over medium heat.
In a shallow bowl, season the flour with some salt. Dredge the chicken in the flour.
Add a few dashes of olive oil to the melted butter. Place chicken in pan and cook for 2 minutes per side, or until almost cooked through. Do this in a couple of batches, adding a bit of butter (reserving 1 tablespoon for step 5) and a dash of oil each time. Remove cooked chicken to a warm platter.
Add lemon juice to the pan and deglaze. Move off the heat if it's burning. Add 1/4 cup of the broth and bring pan back to the heat, stirring, until slightly thickened. Add more broth if too thick. Turn off heat and stir in 1 tablespoon butter.
Dip chicken pieces into pan sauce, and return to warm platter. Pour remaining sauce over chicken. Grind a little black pepper over top. Garnish with parsley and a slice of lemon.
Buon appetito!
https://food52.com/recipes/3840-lemon-chicken