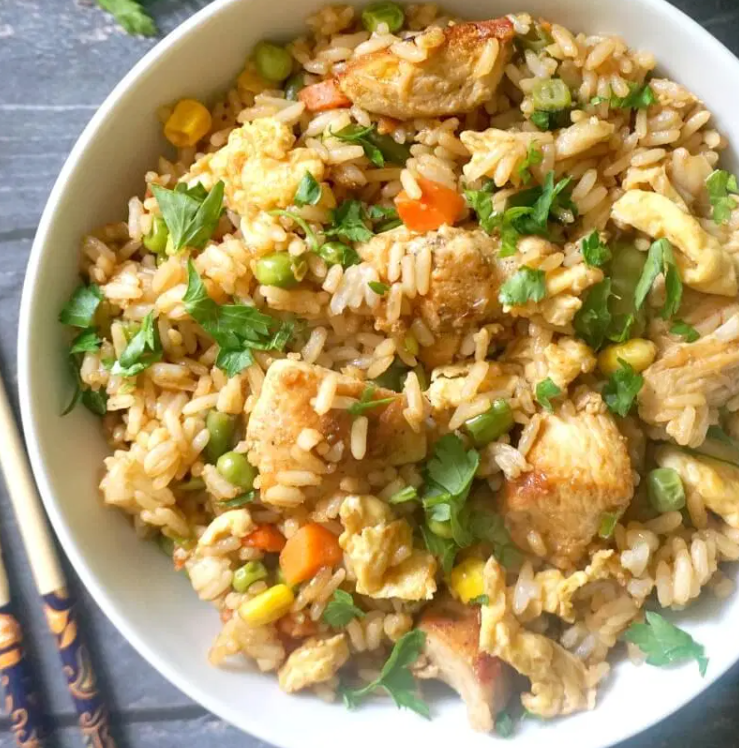 SERVES: 2
Ingredients
2

 

cups

 

cooked long grain rice

2

 

eggs

1

 

cup

 

chopped frozen vegetables, thawed

1

 

chicken breast

3

 

spring onions

2

 

garlic cloves

2

 

cm

 

fresh root ginger

2

 

tbsp

 

vegetable oil

2

 

tbsp

 

light soy sauce

1

 

tbsp

 

dark soy sauce

1

 

tbsp

 

sesame oil

1/2

 

tsp

 

salt

1/4

 

tsp

 

black pepper

1

 

tbsp

 

chopped fresh parsley

1/2

 

tbsp

 

rice vinegar

1

 

tsp

 

sugar
Instructions
Heat up the wok or a pan, cut the chicken into small pieces and season with salt and pepeper. Add one tablespoon of oil to the wok or pan, and stir fry on high heat until the chicken is cooked through and slightly browned.

Remove from the wok and set aside.

Beat the eggs, add them to the pan and scramble them. They should be ready very quickly, 1-2 minutes maximum. Remove from the pan, and set aside.

4. Add more oil to the pan, then add the chopped spring onions, ginger and garlic, and stir fry for about 30 seconds or so. Add the cooked rice, vegetables, chicken and egg, and mix well.

5. In a small bowl, combine the soy sauces, sesame oil, rice vinegar and sugar, and mix well, then add to the pan to the other ingredients.

6. Garnish with fresh chopped parsley, and serve hot.
https://www.mygorgeousrecipes.com/healthy-chinese-chicken-egg-fried-rice-recipe/