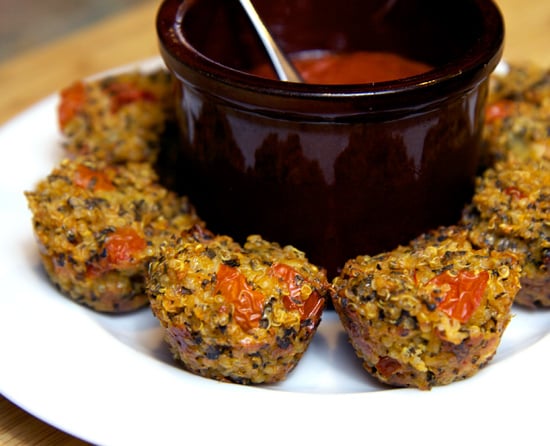 INGREDIENTS
175 grams uncooked quinoa
2 large eggs
150 grams chopped onion
113 grams shredded mozzarella cheese
2 teaspoons minced garlic
22.5 grams fresh basil, chopped (or 2 tablespoons dried)
87.5 grams cherry tomatoes, diced
1/2 teaspoon salt
1 teaspoon paprika
1 teaspoon dried oregano
Pizza sauce for dipping
DIRECTIONS
Place the quinoa and 470ml of water in a covered pot. Bring to boil and then simmer for 20 minutes or until quinoa is tender.
Preheat oven to gas mark 4.
Mix together all ingredients, except pizza sauce, in a medium mixing bowl.
Distribute mixture into a greased mini muffin tin, filling each cup to the top (one heaping tablespoon each), and press down gently to compact.
Bake for 15 to 20 minutes. Cool for 10 minutes before removing from the pan. Serve warm with sauce for dipping.
Makes 24 mini muffin bites.
https://www.popsugar.co.uk/fitness/Healthy-Snack-Gluten-Free-Quinoa-Pizza-Bites-37666166?utm_medium=redirect&utm_campaign=US:GB&utm_source=direct