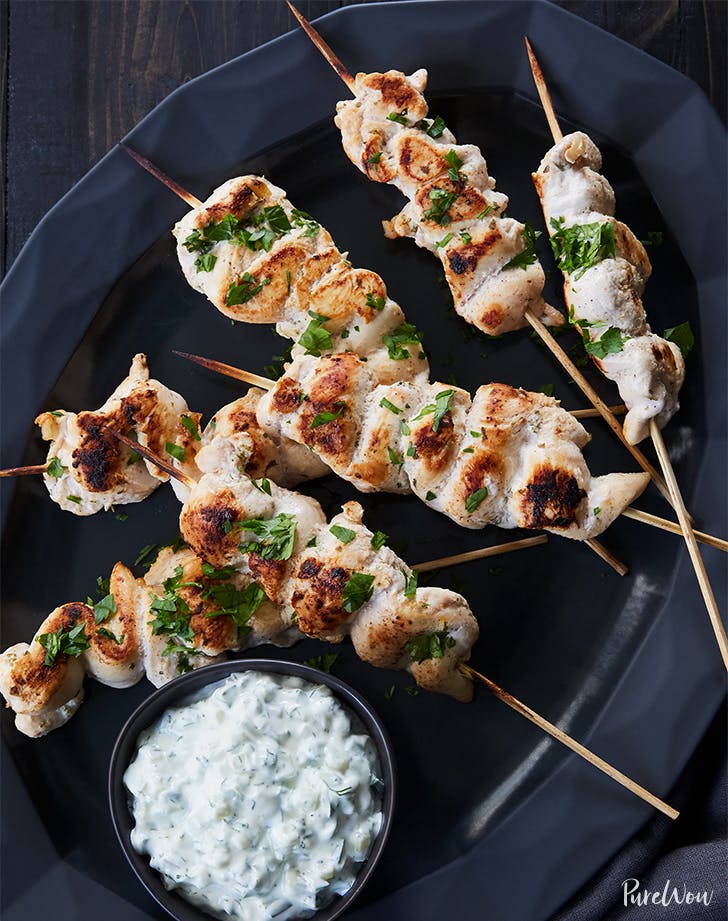 6 servings
TZATZIKI SAUCE
1 cup Greek yogurt
½ European cucumber, diced
1 tablespoon extra-virgin olive oil
2 tablespoons lemon juice
Pinch of garlic powder
Salt and freshly ground black pepper
¼ cup fresh chopped dill
SKEWERS
¼ cup Greek yogurt
Zest and juice of 1 lemon
1 teaspoon dried oregano
1 teaspoon garlic powder
Pinch of cayenne pepper
1½ pounds boneless skinless chicken breast, cut into ½-inch strips
Extra-virgin olive oil, as needed
Salt and freshly ground black pepper
¼ cup chopped fresh parsley
1. MAKE THE TZATZIKI: In a medium bowl, mix the yogurt with the cucumber, olive oil, lemon juice and garlic power to combine. Season with salt and pepper to taste and then stir in the dill.
2. MAKE THE SKEWERS: In a small bowl, whisk the yogurt with the lemon zest, lemon juice, oregano, garlic powder and cayenne.
3. In a separate bowl, rub the chicken with the yogurt-lemon mixture to coat well.
4. Place one piece of chicken on each skewer, weaving the strip back and forth as you thread it onto the skewer to secure it.
5. Brush the skewers on both sides with olive oil and then season with salt and pepper. Working in batches, cook on a preheated grill or grill pan until nicely charred on both sides, 4 to 5 minutes per side.
6. Serve immediately, garnished with parsley and tzatziki sauce on the side.
https://www.purewow.com/recipes/greek-lemon-chicken-skewers-recipe