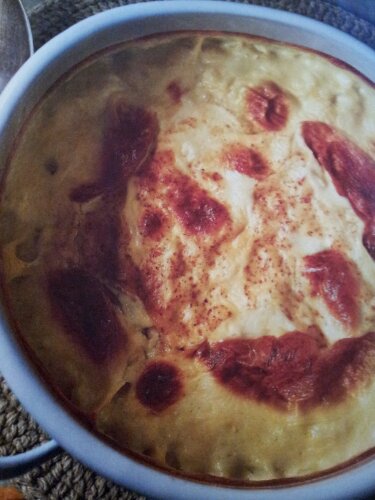 Rice Pudding
Author:
Cat (Waitrose Kitchen, Jan 2012, p28)
Ingredients
40g Unsalted Butter
75g Caster Sugar
100g Short Grain Rice (or Spanish Paella Rice)
½ Vanilla Pod, split lengthways
1l Full Cream Milk
150ml Double Cream
Pinch of Salt
Plenty of Freshly Grated Nutmeg
Instructions
Preheat oven to 150C. Melt butter in solid-based casserole and add sugar. Stir and heat gently, then add rice and vanilla. Continue stirring until rice is puffed and sticky.
Gently pour in milk which will cause rice to set into lumps – any sugary lumps will dissolve as you stir and the milk heats up. Continuing to stir, add cream and pinch of salt and bring mixture to simmer. Give final stir and grate at least ⅓ of a nutmeg over the surface (do not stir again).
Pop into oven for about 1hr30mins; if surface browns too quickly, lay loose sheet of kitchen foil over pudding. Once there is a nice, thin tarpaulin-like skin on surface and pudding only just wobbles in centre, it is ready. Serve at room temperature.
Nutrition Information
Calories:
393
Fat:
25.5g
Saturated fat:
15.8g
Carbohydrates:
32.5g
Sugar:
20.6g
Salt:
0.35g
Fibre:
Trace
Protein:
7g