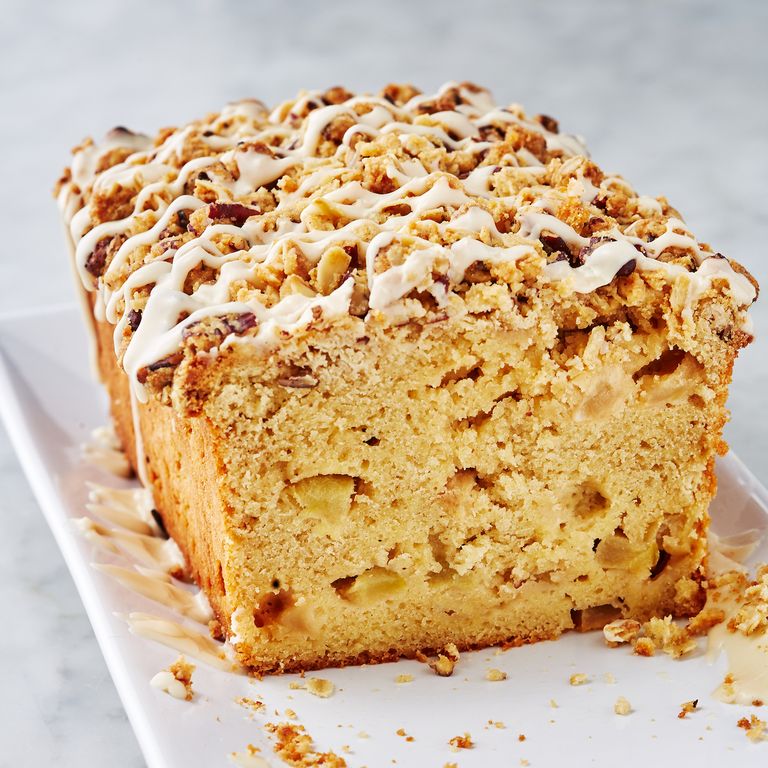 SERVES: 10
FOR POUND CAKE
2 apples, peeled, cored and diced
55 g 
packed brown sugar, plus 2 tbsp
FOR TOPPING
3 tbsp. 
packed brown sugar
Pinch of salt
Preheat oven to 180°C (160ºC fan). Line a loaf pan with parchment and grease with cooking spray. In a medium bowl, toss apples with lemon juice, 2 tablespoons brown sugar, and ½ tsp cinnamon. In another medium bowl, whisk together flour, baking powder, salt, and remaining 1 teaspoon cinnamon.
In a large bowl using a hand mixer, beat butter, caster sugar, and remaining brown sugar together. Add eggs, one at a time, until incorporated, then add vanilla. Add dry ingredients and mix until just combined, then fold in apples.
To make topping, in a medium bowl, combine flour, sugar, pecans, oats, and a pinch of salt. Add melted butter and mix until mixture resembles wet sand.
Pour batter into prepared loaf pan and top with oat mixture. Bake until a toothpick inserted in middle comes out clean and topping is golden, about 1 hour. Let cool completely.
Make glaze: In a medium bowl combine icing sugar,  double cream, and vanilla. Thin with more double cream until desired consistency is reached.
Drizzle glaze over cake before serving.
https://www.delish.com/uk/cooking/recipes/a32312341/apple-crisp-pound-cake-recipe/