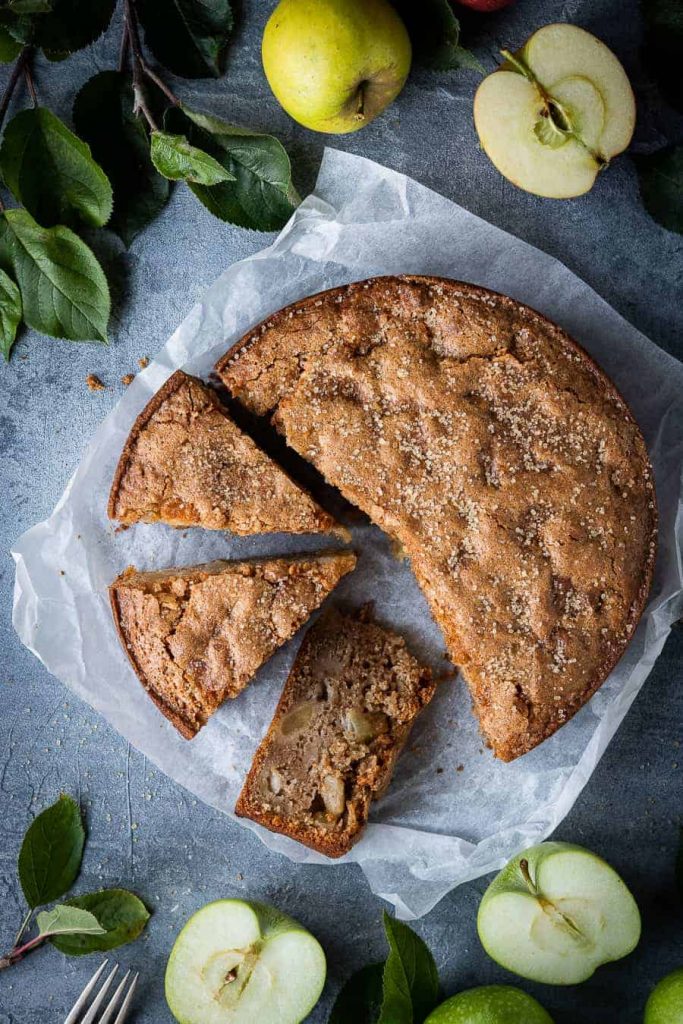 SERVES: 10
Ingredients
4

 

medium eating apples (about 450g unprepared weight) (I used a mix of braeburn and granny smith)

250

 

g (2 cups)

 

plain (all-purpose) flour

100

 

g (½ cup + 1 Tbsp)

 

light brown soft sugar

80

 

g (⅓ cup + 1 Tbsp)

 

caster sugar

2

 

tsp

 

baking powder

½

 

tsp

 

bicarbonate of soda (baking soda)

60

 

g (½ cup)

 

ground almonds

1

 

tsp

 

ground cinnamon

½

 

tsp

 

ground ginger

¼

 

tsp

 

ground cloves

¼

 

tsp

 

ground nutmeg

¼

 

tsp

 

ground allspice

¼

 

tsp

 

salt

160

 

ml (⅔ cup)

 

unsweetened non-dairy milk (I use soy)

80

 

g (⅓ cup)

 

non-dairy yogurt (I use soy)

80

 

ml (⅓ cup)

 

sunflower oil (or another neutral oil)

1

 

Tbsp

 

lemon juice

1

 

heaped Tbsp

 

demarera sugar
Instructions
Preheat the oven to 180°C/350°F/gas mark 4. Grease a deep 20cm/8 inch round cake tin and line it with baking parchment.

Peel and core the apples and chop into 1-1.5cm dice. Set aside.

In a large bowl whisk together the flour, light brown soft sugar, caster sugar, baking powder, bicarbonate of soda, ground almonds, cinnamon, ginger, cloves, nutmeg, allspice and salt until no lumps remain.

Add the milk, yogurt, oil and lemon juice and whisk gently until no dry lumps remain. Add the apples and fold through.

Transfer the batter to the prepared tin and spread it level. Scatter the demarera sugar over the top and bake for about 1 hour 20 minutes until a skewer inserted into the centre comes out clean.

Leave the cake to cool in the tin for 20 minutes then very carefully turn it out onto a wire rack to cool completely. It is very delicate when it is warm so be careful with it. Once the cake is cool store in an airtight container.
Notes
As with all of my baking recipes I really do recommend using the metric measurements with a digital scale rather than the cup conversions. Cups are a wildly inaccurate measuring system and you will get far better, more consistent results using a scale, not to mention that it is also easier and less messy than cups!
The tin you use should be at least 8 cm / 3 inches deep to avoid the cake overflowing.
The yogurt can be swapped for unsweetened applesauce.
The ground almonds in the batter give this cake a lovely texture, but if you want to make it nut free then you can swap them for an equal weight of plain flour instead.
Don't overmix the batter as that can activate the gluten in the flour and make the cake tough. Only mix until no dry lumps remain. I recommend mixing by hand with a balloon whisk rather than using an electric mixer.
This is a delicate cake, especially when it is warm. All those juicy chunks of apple make it quite fragile so I really recommend using a springform or loose bottomed cake tin so that you can remove the cake from the tin without having to flip it out and risk it breaking.
Don't turn the cake out of the tin too early or you risk it breaking. Let it cool in the tin for 20 minutes before you turn it out to give it a chance to settle.
Use the toothpick test to check when the cake is ready – if a toothpick inserted into the middle of the cake comes out clean then the cake is done. You may need to try it in a few spots to avoid apple chunks.
https://domesticgothess.com/blog/2019/12/08/vegan-apple-cake/