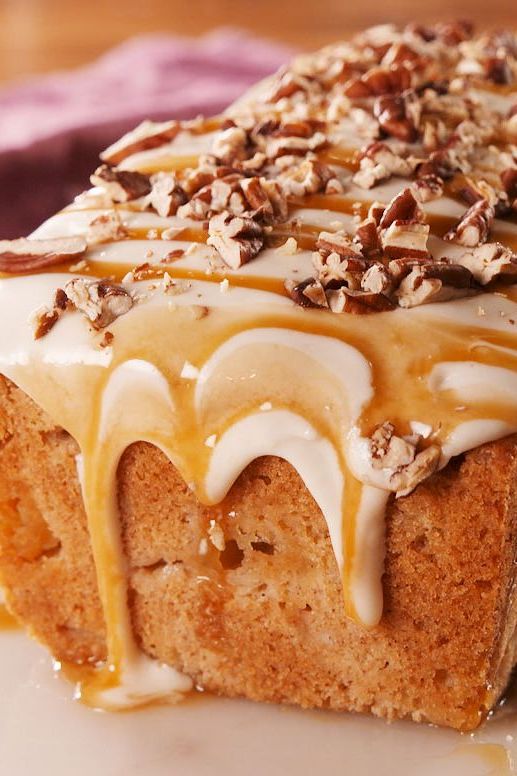 SERVES: 8
FOR POUND CAKE
2 
medium apples, such as Granny Smith, peeled and chopped
FOR THE GLAZE
100 g 
cream cheese, softened
Pinch salt
FOR TOPPING
30 g 
chopped toasted pecans
Preheat oven to 180°C. Grease a 9"-x-5" loaf pan with cooking spray and line with parchment. Make cake: In a large bowl with a hand mixer, beat together butter and sugar until light and fluffy. Add eggs, one at a time, beating well after each addition, then add vanilla.
In a separate large bowl, whisk together flour, cinnamon, baking powder, salt, and nutmeg. Add dry ingredients to wet ingredients and stir until just combined, then fold in apples. Pour batter into prepared loaf pan and smooth top.
Bake until a toothpick inserted into the middle comes out clean, 1 hour 15 minutes. Let cool 10 minutes, then invert onto a cooling rack to cool completely.
Meanwhile, make glaze: In a medium bowl using a hand mixer or whisk, beat together cream cheese, icing sugar, milk, caramel, and salt until smooth. Pour over cooled cake, then drizzle with more caramel and garnish with a sprinkle of pecans.
https://www.delish.com/uk/cooking/recipes/a28924258/caramel-apple-pound-cake-recipe/